Planning to Upgrade your Network or add a New Office?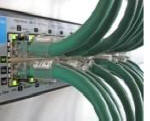 We offer complete network design, installation, administration, repair and support services to small businesses located in Boise Idaho and the Treasure Valley.

Whether installing a new network from scratch or upgrading your existing network, we approach the entire process from a perspective of security. A network that is poorly designed and not secure will cause nothing but problems and increase future repair costs. Unscheduled repairs are something we want to help you avoid.

If you are planning to upgrade your existing network or start a new business, give us a call today. We would be glad to provide you with a cost estimate that will accommodate your needs.