Providing Professional Small Business IT Support Since 1994!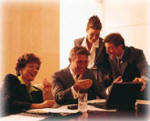 We are a local firm that has been providing computer repair services and network support to Boise businesses for more than twenty years. Whether your company has five computers or fifty, our goal is to help keep your business running as smoothly as possible. We provide a full array of small business IT support services to Boise and the entire Treasure Valley, including computer repairs and upgrades, data security analysis and reporting, network consulting and data recovery preparedness and planning.

Because we consider ourselves a part of your team, any time you require representation with an outside software, hardware or service vendor, we will always be there to represent your interests.

On-Site Computer Support® has maintained an A+ rating with the Better Business Bureau in Boise for twenty-six years and remains in good standing with them. BBB Customer Reviews.

We provide you prompt and courteous service with the expectation of establishing a long term relationship. Contact our office today to discuss any computing needs or concerns you may have. We will be glad to help you.


"References provided upon request."